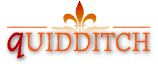 Borders Riverside Quidditch Classic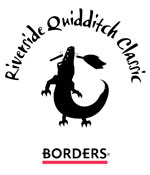 Phoenix Rising is thrilled to announce that the 2007 Borders Riverside Quidditch Classic, sponsored by Borders, Inc., will be part of our Harry Potter conference. Unfortunately, we must ask you to bear with us. The BQL — yes, that famed bundle of bumblers, the Bayou Quidditch League — is still sorting out the system for its rankings, and not all participating teams have been determined. Muggles perhaps have heard of the Bowl Championship Series rankings for NCAA football. The BQL's rankings system is a thousand times more controversial, makes a thousand times less sense, and seems to involve at least a thousand pixies.
The Borders Riverside Quidditch Classic, as always, will involve a triple-elimination tournament in which the play will be vicious and the competitors fierce. The BQL has at least promised to scrounge up some adhesive bandages this time, unlike that disgraceful event in 1994 where Ulla Johannson bled all over the reporter from QuidditchCenter.
Participation in the Borders Riverside Quidditch Classic requires a $30 tournament fee. Players who claim to be up for the Classic are encouraged to register and begin training at once. Professional players will receive a custom jersey with his or her team, name and number, and players may express their name, number, position and teammate preferences at the time of registration for the Classic. The BQL will let you know as the Classic approaches if they cannot meet all your preferences. Please note that, as with all administrative organizations, the BQL will be more likely to meet your preferences if you register early. Players will also receive sports drinks, water, and snacks, as the Amazon Athletic Association's 1999 Jungle Quidditch Jam, complete with tournament-wide dehydration, should not be repeated.
Registration for the Classic is currently open, and the BQL is proud to say that a great many players think they're up to the challenge of the Bayside Riverside Quidditch Classic. The Classic may be added during the registration process for Phoenix Rising, or by adding the Classic to your already-purchased registration. For more information on the Classic, please review the participating teams, the BQL's Muggle-modified Quidditch rules, and the history of the BQL itself. If you have questions, please direct them to Tournament Manager and BQL Official Madeleine Defourneaux at help

@

thephoenixrises.org.
House Play and Pickup Quidditch
Those players unused to the brutality of the Classic may prefer to indulge in some amateur play over the course of the weekend at no additional cost. Two types of amateur play are offered. Players may, in the great tradition of wizarding schools, play for the glory of their House at L'Université des Arts Magiques. Players may also play as part of ad hoc teams if they only have a few minutes to spare.
At this time all House Quidditch player slots have been filled; pickup Quidditch is still available to all conference attendees, but we highly recommend participating in the Classic instead, as pickup matches tend to be very brief. Please direct all questions regarding amateur Quidditch to BQL Official Madeleine Defourneaux, as the BQL oversees all Quidditch, both professional and amateur, in the region. You may reach her at help

@

thephoenixrises.org.
Liability Waivers
All players must sign a liability waiver — or have their parent or guardian, if they are under 18 on May 19, 2007, sign a liability waiver for them — before taking the pitch. Chaperones may not sign liability waivers. Neither Phoenix Rising nor Narrate Conferences, Inc. accepts any liability for injuries or health issues sustained during Quidditch play.
You will need Adobe Reader to view these files. If you do not have it, please use this button to access the free download.
Get Adobe Reader


If you will be 18 on May 19, 2007, please use this form:
Quidditch Liability Waiver


If you will be younger than 18 on May 19, 2007, please have your parent or guardian sign this form:
Parent's Quidditch Liability Waiver