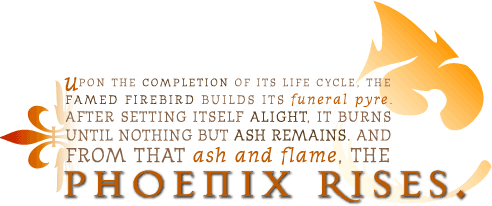 Phoenix Rising, a conference devoted to all things Harry Potter, will fuse the intensity of academic debate with the improvisation of exploratory dialogue, the rhythms of New Orleans with the colors and pageantry of art. The conference will examine the novels, the movies, and the extraordinary fan phenomenon during the day; then, attendees will revel with the beat of the Crescent City — herself rising from ash and flame — when evening advances.
As May 17-21, 2007, rolls around, we hope you are here with us. While we anticipate Harry's final chapter, we welcome you to a tumultuous five days of academia, innovation, artwork, writing and dialogue in a vibrant city that knows something about both celebration and heroes. Whether you are a scholar, a fan, an artist, a professional or another enthusiast of J. K. Rowling's indelible series, we invite you to experience five days of discussion, discovery and immersion in Harry Potter in the French Quarter.
You will find the details of our Harry Potter conference, from the exhilarating to the exotic, via the navigation bar to the left. Make sure to check out our theme and its reflection of New Orleans, as well as our Accepted Proposals, and our events, including our Borders Riverside Quidditch Classic. Please keep in mind that most of Phoenix Rising's programming, events and lagniappe are designed for adults. Our age restrictions are detailed in our registration section. Online registration closes April 10, 2007.